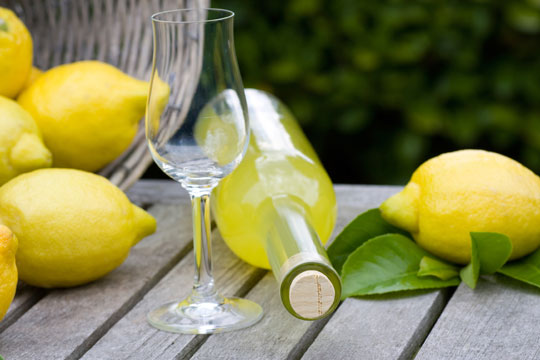 1. It's yummy!
Well, most of the time. Truthfully, bad limoncello tastes like window cleaner. Good limoncello tastes pure, refreshing, and oh-so-lemony–the perfect way to end a great meal on a summer day.
2. It's deceivingly simple.
Limoncello is little more than fresh lemon peels, pure alcohol, sugar, and water, but there are many secrets. If a professional or amateur limoncello maker shares their secrets (like marinating the rinds, using the seeds, and many others), consider yourself an insider!
3. It's authentic.
The famous ovale di Sorrento, or "Sorrento oval," is the giant lemon variety that gives limoncello from Sorrento its distinctive taste. The sfusato amalfitano, the variety of lemon grown in nearby Amalfi, is also considered excellent for making limoncello.
4. It's historic.
People have been growing lemons on the cliffsides of the Amalfi coast since the early Middle Ages. It must not have been long before they figured out how to turn them into limoncello and many other lemon-infused pastries and other dishes.
5. It's a great excuse to travel to the Amalfi Coast.
Ask any Italian, and they'll probably tell you that lemons from Sorrento make the best limoncello in the world. The tart fruits flourish along the hillsides of this volcanic earth, rich with sunshine and salt air.
6. It's a good way to meet the locals.
Many Italians grow lemons in their gardens so that they can make their own homemade limoncelli. My former neighbor near Milan makes a wonderful, sweet homemade limoncello infused with blueberries from her garden!
7. It's easy to find.
You can buy good artisanal limoncello all over Italy, from the Alps to Sicily. In a large city like Naples, you will get a better selection of the limoncello from the Amalfi region because of geographical proximity. However, you should also look for local producers in the other towns you visit.
8. It's surprisingly affordable.
It is easy to find even a great limoncello for well under 50 Euro.
9. It's a good reason to visit your local wine shop.
In Italy, keep your eyes out for a good enoteca (wine shop) or one of those little shops that sell high-end prepared foods and specialty culinary items. Ask the owner for a personal recommendation. Aside from the more industrial producers like Luxardo and Petrone, there is a tremendous variety of limoncello made by small, family producers. Many of the culinary shop owners will have hand-picked a few favorites to carry in their stores, and that's usually a good bet.
10. It's one of the great things about being in Italy.
It's a good idea to savor limoncello in Italy. If you want to bring home a bottle of limoncello or other alcoholic beverages, be sure to check your country's customs regulations before you buy.