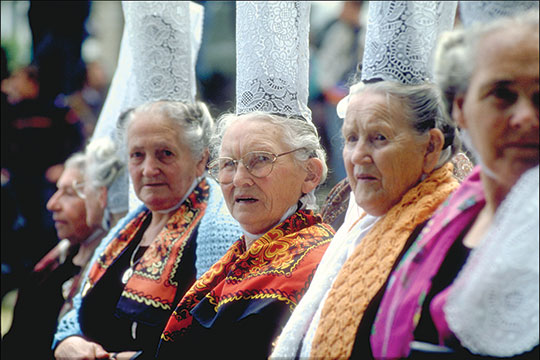 Brittany is a relatively isolated region in France's extreme northwest, and boasts what may be the country's richest tradition of textile arts–especially lace. Since the Middle Ages, Breton women have woven, embroidered, knitted and laced everything from costumes to tapestries, sailcloth to fishing nets.
Nowhere is the Breton tradition of lacemaking more striking than in the Pays Bigouden, a small sub-region southwest of Quimper, which boasts a tradition of high headgear. No one knows exactly how or when the tradition of these tall coiffes got started, but one thing's for sure: it's kept bigoudine women busy toiling away for months during the winter months in a lacemaking frenzy. Some of the more elaborate examples of this traditional headgear are further embellished with embroidery, representing hours of additional labor. The coiffe usually tops off an equally elaborate dress, skirt, and apron, also featuring embroidery and sometimes lace accents.
Up until the French Revolution, tapestry and lacemaking stood among the primary industries of northwestern France. Bayeux and Alençon in Normandy were renowned for their own distinctive lace patterns and smaller towns had their own prolific communities of lacemakers. The lace styles were as individual as the towns themselves: Bayeux was known for black bobbin lace, Alençon for its white needle lace that was so esteemed it was called point de France.
In spite of Breton lace's far-reaching influence, the tradition of high headgear remains a particularly bigouden tradition, and artisans continue to make these elaborate headdresses today. Typically women don them only during important festivals and folkloric events, but a handful of mostly elderly women continue to wear these fantastic feats of festoonery every day.
For more about the artisanal traditions of northwestern France, read Laura Morelli's Made in France.
Have you discovered a unique treasure from one of the regions of France? Drop a comment below. I love to hear your stories!