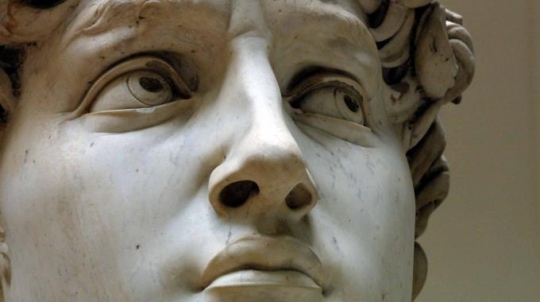 "The more the marble wastes, the more the statue grows," wrote Michelangelo Buonarroti. The Renaissance master was intimately familiar with the marble quarries near Carrara, in Tuscany, where he traveled to select raw materials for his famous Pietà and other sculptures. Every piece of Carrara marble was special and specific to each project. The block used for Michelangelo's famous David had languished in the work yard of Florence cathedral for forty years before he tackled it; legend holds that the artist had in mind one of the hulking Carrara stonecutters as the physical model for Il Gigante. The master wrote that he dreamt of one day carving another colossus like the David—this time using an entire mountain of marble, a kind of Renaissance Mount Rushmore—that would overlook the sea.
Ancient origins
The Carrara quarries have provided artistic inspiration and raw materials since antiquity. For two thousand years, men have plundered the Apuan Alps near Carrara for the precious translucent white marble. The ancient Romans chopped fissures into the stone, then inserted wet wood that, when it expanded, caused the marble to break off in giant pieces. Their mode of getting it down the mountain—a sled-like contraption on a wooden track—was used through the twentieth century. Quarries of the ancient period as well as the ones Michelangelo used are still visible today. A visit to the Marble Museum of Carrara provides an informative background before taking a walk into the hills.

Beyond sculpture
Sculpture is not the only fruit of the Carrara quarries. Artisans in and around Florence have turned the craft of marble inlay into a high art. Inlaid stone was the passion of Grand Duke Ferdinand de Medici, who founded and endowed a workshop for this craft in 1588. This highly specialized technique involves inlaying marble and colored semiprecious stones valued for their brilliance and saturated color into furniture and wooden panels. The technique is sometimes referred to as pietre dure, commesso or opera di commessi, and is closely allied to mosaic. Today, this painstaking art remains in the hands of a few Florentine artisans. The small Museum of Inlaid Stone in Florence is a great place to feast your eyes on a vast array of decorated tabletops, plaques, and other works inlaid with intricate designs that can only be called "painting with stone."
Beyond Florence in the Tuscan countryside, other materials are also quarried for works of art. The ancient Etruscan city of Volterra is a center for working alabaster (technically, alabaster is a mineral, not a stone) and its local alabaster museum is a must-see before browsing the streets where luminous alabaster works fill the shop windows.
Modern masters
Today, the skills and techniques of working marble and other quarried stones and minerals are still passed down verbally from master to student, involving many years of practice. The Tuscan town of Pietrasanta is currently a mecca for marble sculptors, drawing masters from around the world who want to walk in the footsteps of Michelangelo. Strewn around their dust-filled studios are full-sized reproductions of the masterpieces of Renaissance masters, ancient Roman athletes, busts of royalty, and countless other treasures. Sculptors in training practice in a host of related disciplines such as model casting that are wonderful to observe. Call the studios ahead to arrange a visit to watch them work.
What's your favorite thing made of Carrara marble? Drop a comment below. I love to hear your feedback!