In Lombardy, people have made crafts from stone, plentiful in the mountains above Bergamo and Brescia, since the Iron Age. In a valley known as Valmalenco north of Brescia, prehistoric residents extracted a hard stone from caves that pierce the mountains.
From this hard soapstone known as pietra ollare, they crafted bowls, plates, and utensils, presumably going to all that trouble because of the heat-retaining properties of this stone. (It goes to show that Italians will always go to great lengths when it comes to good food!)
It turns out that this soapstone is perfect for making bowls and tableware that keep food warm for long periods of time. It's also used to create works of art, utilitarian objects, and whimsical human and animal figures.
Today, many artisans mine chunks of the mountains themselves. While you're visiting the area, check out the fascinating drawings of people and animals scratched into stones on the local mountainsides by our Neolithic ancestors. The national park of prehistoric carvings is located in nearby Capo di Ponte.
Read more about the artisanal traditions of Italy in my guide, Made in Italy.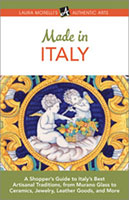 Have you discovered a treasure during your travels? Drop a comment below. I love to hear your stories!