Take a Virtual Journey into the Heart of Ancient Italy
With ART HISTORIAN LAURA MORELLI in a no-pressure learning environment that's EDUCATIONAL, INSPIRING, and FUN!
If you're a TRAVELER, an ART LOVER, or a LIFELONG LEARNER . . .
You probably know there's something special about the ancient Etruscans. Maybe you've heard that the Etruscans:
Are considered "mysterious"
Spoke a language unique in the world
Were known for their enjoyment of earthly pleasures
Are you curious about where the Etruscans came from and what happened to them?
BUT HERE ARE A FEW THINGS THAT YOU MIGHT NOT KNOW ABOUT THEM…
They aren't so mysterious after all.
Countless books, courses, and documentaries focus on the theme of the "mysterious Etruscans." The truth is that we know quite a bit about the Etruscans. I'll show you why they aren't so mysterious after all!
We now have a better idea of where they came from—and what happened to them.
Thanks to modern science and DNA technology, there is new information about the origins of Etruscan civilization. And, we know more about what happened as the Romans began to consolidate their power and intrude into Etruscan cities.
Their art is unique in the world.
While the Etruscans were contemporaries with the ancient Greeks and Romans, their art is permeated with a fun-loving, vivacious spirit that is unique in the history of art. I'll show you the hallmarks of Etruscan art so you can recognize and appreciate it.
There are new discoveries of Etruscan culture all the time.
A large Etruscan villa was discovered at Vetulonia in 2017. More recently, the first major Etruscan settlement on the island of Sardinia was uncovered. In just 200 years, tens of thousands of Etruscan tombs have been unearthed. Etruscan archeology is one of the most exciting fields of art history right now. Join me to find out why!
My course is your lifetime access to experience Etruscan culture in a fun, immersive journey to the past.
My program on Etruscan art is the only course of its kind that takes you on a virtual journey into the heart of ancient Italy in a no-pressure environment that's educational, inspiring, and fun.
I've taken everything I've learned from years of teaching Etruscan art in the college classroom, and I've condensed it down into an easy-to-follow, straightforward series of lessons.
Enjoy bite-sized video lessons you can consume whenever and wherever it works for you!
My course on Etruscan art comprises 4 modules, each with on-demand video lessons inside. Go at your own pace so you don't feel bored, overwhelmed, or bogged down.
Watch at home, on the train, while doing chores, while sitting on the couch with your family and a bowl of popcorn. I want it to be fun!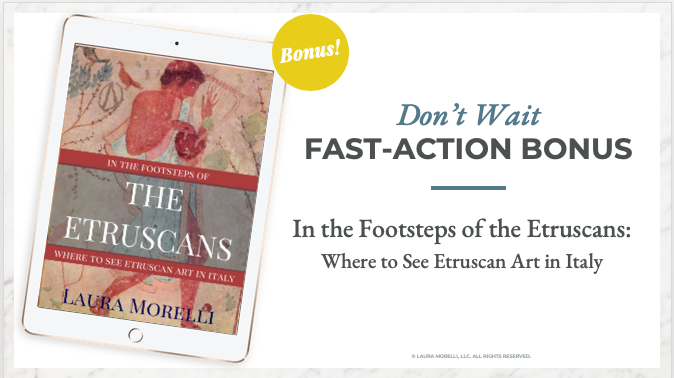 Students who enroll before the deadline also have access to my guide, IN THE FOOTSTEPS OF THE ETRUSCANS (it's not available anywhere else!).
This guide leads to you more than 100 places where you can experience Etruscan art in Italy.
If you're headed to Italy any time in the near future, you'll want to read this first!
LET ME SHOW YOU WHAT'S INCLUDED…
In the first module, we look at who the Etruscans were:
What are the different theories about the origins of the Etruscans?
We attempt to answer that age-old question, "What's the deal with their strange language?
Module 1 Course Content:
Start here (0:43)
Welcome to Etruria! (9:56)
Who Were the Etruscans? (10:55)
In Module 2, we'll dive into the roots of Etruscan art.
We'll learn how the Etruscans began to organize themselves on hilltops across the central part of the Italian peninsula, carving out a distinctive culture that was clearly different than everyone else. We'll look at the hallmarks of the Etruscan city, including their temples and homes.
We'll also look at what I call the Making of Etruscan Style, which surveys the jaw-dropping luxury goods that the Etruscans began to make even in this early period, everything from pottery to jewelry and decorated ostrich eggs!
Module 2 Course Content:
The Emergence of Etruscan Culture (8:25)
Early Etruscan City-States & Architecture (17:09)
The Making of Etruscan Style (23:43)
Spotlight: The Apollo from Veii (8:24)
Module 3 takes us into the two main divisions of Etruscan society at its height: The cities of the Living, and the Cities of the Dead.
In the cities of the living, we'll see how the Etruscans laid the groundwork—literally—for the Romans by developing things like the arch, city walls and gates, temples, water infrastructure, and homes.
In the cities of the dead, we'll glean a lot of information about how the Etruscans lived and what they valued, based on how they prepared themselves for the afterlife.
This is where we take a deep dive—so to speak—into Etruscan tombs. We'll take a close look at what the Etruscans decided to paint on the walls of the places where they planned to spend all eternity, and the luxury objects they felt were important to take with them.
Module 3 Course Content:
Cities of the Living (11:11)
Cities of the Dead (10:27)
Happily Ever After: Tomb Painting at Tarquinia (11:26)
Luxury Goods: Pottery, Bronze & Gold (15:35)
Spotlight: The Sarcophagus of the Spouses (6:08)

Finally, in Module 4, we'll look at what happened, beginning in the fifth and fourth centuries BCE, when the Romans began to consolidate their power and exert themselves in Etruscan territories.
But the story of the Etruscans does not end with Roman conquest. In the final module, we'll see what happened to the Etruscans during the Roman era and even beyond. We'll also look at the legacy of the Etruscans in later centuries.
Module 4 Course Content:
A New World (17:34)
Luxury Goods & Portraiture (13:57)
The Legacy of the Etruscans (14:20)
Spotlight: The Chimera of Arezzo (2:57)
Spotlight: The Ficoroni Cista (3:35)
I invite you to travel with me virtually to ancient Etruria with events streamed live from Italy!
Thanks to a few "inside connections" with my wonderful colleagues, I've arranged for us to go behind the scenes of some Etruscan sites and museums. Even some that are officially closed will be open just for us! How exciting!
Inside this course, you'll find visits like these:
-Etruscan City Walk, Perugia, Parts I and II (60:14 and 81:43)
-Tomba del Faggeto (60:00)
-Antiquarium of Corciano (87:35)
-Museum of the Etruscan Academy, Cortona (54:06)
-Archaeological Museum, Perugia (95:12)
-Archaeological Park of Sodo, Cortona (10:39)
With more live and recorded visits to come in the coming weeks:
-Necropolis of Banditaccia, Cerveteri
-Necropolis of Monterozzi, Tarquinia
-Museum of Chianciano Terme
-Etruscan Museum, Vatican
-National Etruscan Museum, Villa Giulia, Rome
-Etruscan Museum, Volterra
-Museum of Montepulciano
Museum of Sarteano
AND MORE!
The Banquet Room
A lively discussion forum where we geek out on everything Etruscan!
Laura's Video Answer Vault
What does DNA evidence tell us about the Etruscans? (3:35)
Did the Etruscans make and drink wine? (4:14)
What did the Etruscans eat? (4:08)
What was living in an Etruscan town like? (4:14)
Why the jars with the heads? (2:34)
Did the Etruscans know how to read and write? (2:46)
Course Extras
Women in Etruscan Art–recording (56:09)
Women in Etruscan Art FAQs (24:22)
Further Reading on Etruscan Art & Culture
Glossary of Terms Used in Etruscan Art
IN MY ART HISTORY ACADEMY, THERE ARE:
No tests to take
No papers to write
No deadlines
In short, there's no pressure!

I want you to be here—as I am—for the love of learning. I want you to come with a heart and mind open to allow the past to teach and inspire us.
You'll have lifetime access to all the lessons and you can learn at your own pace.
But if you don't love it as much as I do, that's OK, too, because I have a money-back guarantee.
If the course is not for you, just email me before the end of the Module 1 videos, and I'll be happy to give you your money back, no questions asked.
You can learn more about my Refund Policy here.
DID I MENTION THAT…
I'm super-excited about the Etruscans?
I have taught at universities in the United States and in Italy. And, I've taught the entire history of art from pre-history to the present. But there's a reason why one of the introductory classes in my Art History Academy is on Etruscan Art. It's because I absolutely love this topic!
And I think you will, too.
A LITTLE ABOUT YOUR INSTRUCTOR
When I was a kid and people asked me what I wanted to be when I grew up, I said that I wanted to be a writer… or maybe an archeologist.
It took a lot of years, but I earned a Ph.D. in art history from Yale University and am also an award-winning historical novelist. I feel so lucky that I got to do… more or less… what I always wanted! How many people get to live their dream?
It has been my privilege to teach college students in the U.S. and Italy, and to produce art history lessons for TED-Ed. I've been a regular contributor on art and authentic travel for National Geographic Traveler, Italy Magazine, CNN Radio, USA Today and other media. I'm the author of the Authentic Arts guidebook series that includes the popular books MADE IN FRANCE and MADE IN ITALY. In my historical novels, including THE PAINTER'S APPRENTICE and THE GONDOLA MAKER, my joy is to bring the stories of art history to life.
FREQUENTLY ASKED QUESTIONS