Authentic Naples
The Centro Storico (Historic Center) and the old Quartiere Spagnoli (Spanish Quarter) neighborhoods contain a high concentration of artisans, from furniture and antiques restorers and dealers, upholsterers, basket makers, tailors, and other purveyors of Old-World trades.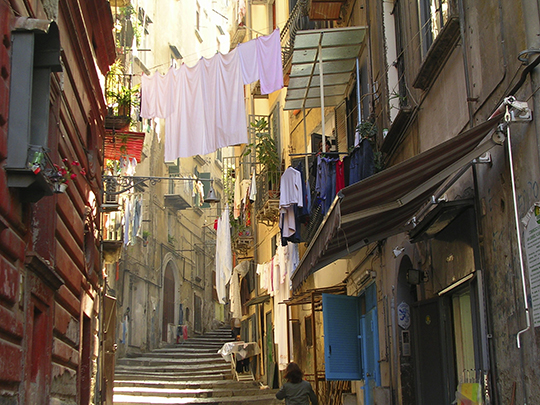 Great Shopping Streets
If you want to get an intense flavor for the authentic arts of Naples, explore these streets:
Antiques and restorers: via Martucci and via Santa Maria di Constantinopoli
Baskets and wicker: via Vicolo del Fico
Copper and wrought iron: rua Catalana, via Basile, vico Graziella
Jewelry and gifts: via San Biagio dei Librai
Nativity and religious figures: via San Gregorio Armeno, via San Biagio dei Librai
Buyer Beware
Now, where should you NOT buy? As a general rule, avoid the tourist-oriented retailers that lie along the port of Naples where the cruise ships dock. Likewise, on the Amalfi Coast, avoid buying from street stalls or trinket shops that line the major pedestrian thoroughfares and surround the cruise ship ports, and those clustered around major sites that draw tourists. In these areas you are nearly guaranteed to overpay for a lower-quality item that may or may not have been made in town.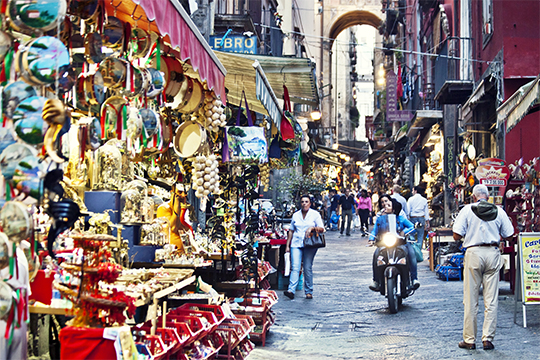 Buy Direct
When it comes to buying direct, get as specific as possible. In other words, instead of buying a pair of shoes that catches your eye in a boutique window, think about heading to a sandal-making workshop and buying directly from the person who made them. You've already come this far; go see how it's made and meet some artisans face to face!