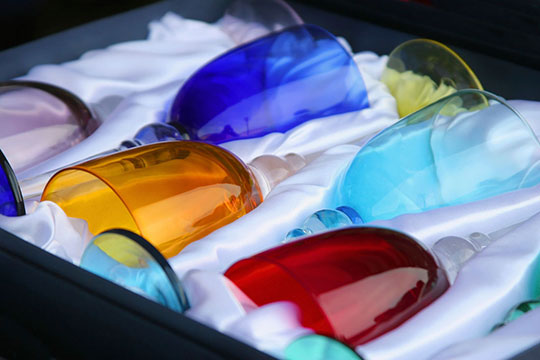 For me, souvenir-collecting is an occupational hazard. An author of shoppers' guidebooks, I inevitably learn from my own mistakes. When it comes to bringing home the goods, I've made plenty of them.
In Mexico, I purchased an exquisite handmade textile too bulky for my suitcase. At the local post office, I paid eight dollars to ship it home in a box—no insurance, no tracking number.
Predictably, it never arrived.
Years after this disappointing experience, I still want to come home from an international trip with a meaningful memento. Here are a few tricks I have learned for getting treasures—whether Irish crystal, Indonesian woodcarving, or Icelandic sweaters—home in one piece.
Plan ahead
Before you buy, consider how you will get it home. Even if you don't know yet what you will purchase, it pays to spend some pre-trip planning time on the websites of major international shippers like FedEx and UPS. You can estimate the time and cost of shipping a package, plus find in-country customer service numbers, drop-off locations, and country-specific restrictions.
Also peruse the U.S. Customs Service website for a list of prohibited items. You'd expect to find items such as alligator hides and raw beef on the list, but you may be surprised at others. Certain textiles and fine art, for example, may be subject to exorbitant duties. Customs also flags ceramics from specific regions and producers because of high lead content. Although customs allows a certain amount of wine and spirits, many shippers do not accept personal deliveries of alcoholic beverages.
Choose a carrier
Generally, I do not recommend using the national postal service of the country you're visiting, for the simple reason that if your goods do not arrive or arrive damaged, you will have little recourse to file and collect on a claim. Postal services vary wildly from country to country. The United Kingdom's Royal Mail Service, for example, carries a reputation for efficiency, while Italy's, well, does not. (When I lived near Milan, my postal carrier strapped loose mail pieces to the back of his moped with a frayed bungee cord, leaving a trail of exhaust fumes and fluttering envelopes.) If you stick to the major international shipping services, you'll pay more but get the most reliable service, plus you'll have clear recourse if something goes wrong.
Pack it properly, and insure it
International shipments can take a beating, so it's important to pack goods properly. I always carry bubble wrap in my suitcase when I travel overseas, as it's difficult to find in some countries. When considering insurance, ask the carrier how much is already covered in the shipping cost. If your Nigerian mask or Limoges porcelain is worth more than that, buy more insurance, a small price to pay for peace of mind.
Or, have the merchant pack and ship it…
Many retailers can ship your purchase directly to you. This is the best way to get wine home, as they can navigate shipping and customs regulations pertaining to alcohol more easily than an individual. It also makes sense for particularly fragile items like glass or ceramics, since the shops are experienced in packaging fragile goods and often have special containers for them.
Verify that the merchant uses a carrier whose packages you can track from home. "Make sure you record the merchant's full contact information, and that they include yours on the airbill—including your telephone number and e-mail address," says Ronna Branch, a UPS spokesperson. "That way, if something happens, we can contact you, and you also have a way of contacting them."
THREE SHIPPING OPTIONS PUT TO THE TEST

On a recent trip to the south of France, I put several shipping options to the test.  I purchased embroidered table linens, as well as a set of utensils carved from olive wood.  I distributed the items equally between three shipments, each weighing three pounds. I mailed each box from Nice to my U.S. home, using different carriers.  Here's what happened:

La Poste:  After waiting in line for 45 minutes at the local post office, I purchased a nifty yellow cardboard box labeled Colissimo, a flat-rate shipping option offered by the French postal service.  I paid 28 euro (about $38 at the current exchange rate).  The package arrived at my home in two weeks.  Although the linens were no worse for the wear, the wooden spoons were broken.  No longer in France, I could not return to the post office, which requires that claims be filed in person.

FedEx:  I visited the local FedEx office in Nice, and paid using my existing FedEx account number.  Using International Priority service, the transaction set me back 72 euro ($100). The package appeared on my front porch in Connecticut –unscathed — within 30 hours.

UPS:  I called the local telephone number and arranged for a pickup at my hotel. I billed the shipping cost of 116 euro ($160) to my UPS account number.  The package was tattered when it reached my home five days later, but the goods were in fine condition.
Don't assume it's too big to ship
If the table and chairs in that Buenos Aires antiques shop would be perfect for your dining room in Baltimore, don't despair. Many companies use freight brokers to ship overseas, and prices are sometimes surprisingly reasonable. Companies who do a lot of shipping abroad negotiate special rates, and when shipping multiple items to the same country, it may mean savings for you.
Prepare for customs
Keep your receipts and carefully document your purchases on the paperwork. Make it clear that the items you ship are destined for your own consumption. Any item that could be construed as commercial is subject to duties. My husband and I raised the eyebrows of customs officials at JFK airport with a bag full of chocolates from Belgium. We had to convince the officer that all those goodies were not for resale—just for us!
The bottom line
International shipping is not cheap. Does the shipping cost more than the item you're buying? Is the combined cost more than what you would pay for the item within the U.S.?
If the piece is valuable, and the choice comes down to packing something in your suitcase versus shipping it, by all means ship it. Shipping with one of the major international freight services is almost always a safer bet than packing it in your suitcase. Airlines generally have lower insurance limitations to cover items lost or damaged in checked luggage, not to even mention an increasingly bad track record of losing luggage.
This article originally appeared in USA TODAY.