FOR A

LIMITED

TIME:
Buy a copy of

MADE IN ITALY

by March 15 and get




Laura Morelli's 5-part video series,

How to Buy Leather in Italy

, free!
Here's how to claim your gift:
1
Click here to buy MADE IN ITALY at the retailer of your choice. Read in your favorite format—paperback, e-book, or audio!
Books are available on my web site, and at Amazon, iBooks, Kobo, Barnes & Noble, and many other online stores around the world.

2
Copy your receipt # and head back to this page.
Offer is valid for all editions (paperback, e-book, and audiobook) and for orders from all online bookstores.
Then, check your email for access to the course.
About the book: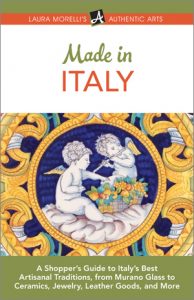 Richly painted maiolica ceramics from Tuscany. Supple Florentine leather. The cameos of Naples and the Amalfi Coast. Parmigiano-Reggiano, the king of cheeses. Jaw-dropping glass from the island of Murano. MADE IN ITALY takes you on a complete tour of the dazzling artisanal legacy of Italy, uncovering off-the-beaten-path destinations and one-of-a-kind, hidden workshops where everything from leather bags to gilded frames are turned out completely by hand, piece by piece.
Laura Morelli, art historian and trusted guide in the world of cultural travel and authentic shopping, leads you behind the tourist traps to discover some of Italy's most traditional arts. Laura holds a Ph.D. in art history from Yale University and shares how, what, and where to buy; hints on recognizing quality and authenticity; and tips for bringing home the artisanal treasures of Italy in your suitcase.
This book includes instructions for getting a free copy of the companion guide, ARTISANS OF ITALY, with complete, continually updated listings of Laura's personally recommended shops and artisans across Italy.
Delicious to read and artfully photographed, as appealing as the beautiful Italian products that it so enticingly describes. —Traditional Home
Full of historical information, advice on avoiding scams, and ways to pack it all up to take home… —House & Garden Magazine
Offers travelers a complete guide of what to buy where. —"Leather-Bound Edition," CNN Radio
This beautifully illustrated and instructive shopping guide will lead you to the "best of the best" of Old-World artisanal traditions and handmade crafts. —Endless Vacation
Laura Morelli's Authentic Arts series
About the course:
One of the most frequent questions my readers ask is how they can come home from Italy with a great work of leather–maybe a jacket, handbag, wallet, or desk accessories. High-quality leather is synonymous with Made-in-Italy style, but deciding what to buy and from whom can be overwhelming.
For more than a quarter century (!), I've been helping travelers sort the treasure from the trash when it comes to selecting a high-quality leather souvenir. For the first time, I've put my tricks of the trade in a 5-part video course.
Until March 15, I'm unlocking

How to Buy Leather in Italy

free for readers of my book, Made in Italy. At midnight EST on March 15, the course will go to its regular price of $149.
DO YOU WANT TO COME HOME FROM ITALY WITH A LEATHER JACKET, BAG, OR WALLET?
Italian cities overflow with leather goods synonymous with Made-in-Italy quality and style. But…

• How do you know if you're buying a high-quality, handmade item? • How much to pay? • And how do you know if you're being ripped off?
What You'll Learn in this Course
Why high-quality leather is synonymous with Made-in-Italy style
What a typical leather shopping experience is like in Italy, and why yours will be different—and better
How leather has been a part of everyday life in Italy since ancient times
How it was used to make everything from military armor to books
Why the making of leather was considered one of the most unsavory trades
Why leather is such an extraordinarily complex topic, touching culture, history, fashion, economy, and the very core of Italian self-identity
The three main tiers of today's Italian leather industry
Current challenges for Italian leather-makers
Pros and cons of buying luxury-branded leather goods
How to locate authentic leather artisans
How to discern a high-quality piece of leather
How to read the label, and what the terminology means
How to develop your senses to judge leather quality
How to use insider knowledge to separate the treasures from the trash
How to locate high-quality leather in boutiques, street markets, artisan workshops, factory outlet stores, and other venues
Where you should NOT buy
How much to pay, and how to know if you've paid too much
How to avoid common scams
How to ensure you'll go home with a piece you'll treasure years from now