I'm excited to announce a new partnership with MANIMENTI, a Rome-based startup that is bringing the best of "Made in Italy" to the web.
What is Manimenti?
MANIMENTI is a curated website bringing the world's best artisans and historic workshops online at www.manimenti.com. In addition to arranging custom requests, restorations, and architectural services, Manimenti curates online selling exhibitions dedicated to each of its 40+ accredited master artisans on a rolling basis. They offer people around the world the opportunity to become today's de Medici, art patrons of the online generation, with access to handcrafted contemporary artifacts and skills of world heritage.
Each heirloom object–exquisite violins, hand carved frames, marble inlay tables–is individually assessed for quality and aesthetics by Claire Serpi, Manimenti's CEO and a Sotheby's trained art expert. Only the most representative artisans are invited to participate. Restorers, for example, have worked on monuments in UNESCO sites of world heritage including the Trevi Fountain and St. Peter's Basilica.
Made in Italy: Artisans and Authenticity
"MANIMENTI is the realization of an idea that began when I first moved to Italy," shares CEO and co-founder Serpi. "What captured my sense of wonder weren't just masterpieces by Caravaggio or skeletons of grand architecture, but the ubiquitous attention to artistic detail: flourishes in unexpected places like doorknobs and water fountains, street lamps and window grates. These meticulous labors of passion, articulated with originality and skill, spoke to my heart."
I'll be writing monthly pieces for MANIMENTI's blog and online newsletter. You can read more of my work for Manimenti here: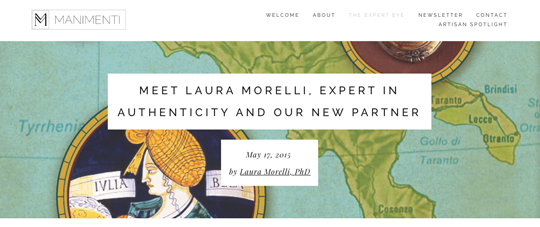 Have you discovered something handmade and wonderful in your travels to Italy? Drop a comment below. I love to hear your stories!