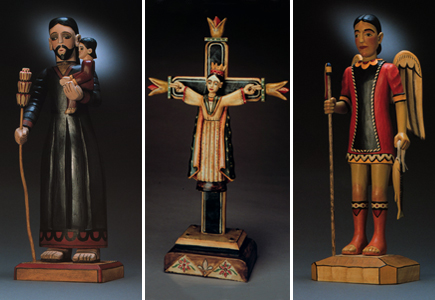 Images courtesy of the Spanish Colonial Arts Society Museum and the Millicent Rogers Museum Permanent Collection from the Museum Conservation Insitute "Santos: Substance & Soul" exhibition.
From the dusty shelves of an Albuquerque antiques stall, a faded statue of Saint Michael stares at me. With a blank gaze on his face—as if he's done it a million times before—he wields his sword to slay the dragon, a curious creature cowering at his feet that resembles lizards I've seen roaming the desert just south of here.
Devotional arts
Some of the most fascinating works of Hispanic devotional art come from New Mexico, where Spanish colonists established settlements as they pushed north from Mexico along the Rio Grande in the 1500s and 1600s. Statues of saints and religious paintings aided missionaries in spreading the stories and lessons of Catholicism to Pueblo Indians, and they served as devotional pieces for Hispanic colonists. Ultimately, these religious images stemmed from Europe, but they found renewed vigor in early Latin America. These santos played a starring role in church liturgies, processions, and other public displays, the glue that held Spanish colonial society together. From the beginning, people also incorporated santos into altars and other devotional spaces in their homes.
Santos is a broad term that encapsulates several categories of religious art, including two-dimensional works like panel paintings (retablos) and altar screens used in churches (reredos), as well as three-dimensional statues, or bultos. Over four centuries, New Mexican craftspeople developed a vocabulary of favorite local saints and subjects distinct from their Mexican prototypes, a measure of their evolving local culture and geographic separation.
Roots and religion
The ingenuity of early New Mexican santeros, or makers of santos, lay in rendering precious-seeming objects from the humblest local materials—objects of rustic beauty and substance that helped shape the Southwest's aesthetic sensibility. Utilizing the limited natural resources at their disposal, they learned to fashion the bodies of saints and altar frames from ponderosa pine and cottonwood roots, and to turn animal hides into blank canvases. They learned which local plants yielded the brightly colored pigments they desired, and how to concoct varnish from the sap of the piñon tree. They worked with basic tools, roughing out figures and slabs with an adze, carving bodies and faces, and coating surfaces with gesso in preparation for painting, and with varnish to impart a slick, glossy finish. Santeros connected the arms and legs of free-standing bultos with wooden dowels.
Today, a handful of excellent santeros across New Mexico still make santos in traditional ways. The craft lies in the hands of a few families who have ensured that the historical techniques and the spirit of the tradition are passed to the next generation. Most of these artisans work from home studios. The most authentic still use ponderosa pine or cottonwood roots, varnish made from the sap of the piñon tree, and brightly colored pigments mixed from local plants and minerals.
Shopping for santos
Hunting for authentic New Mexican santos means a foray into some of the most colorful corners of the American Southwest, from artisan studios to festivals and museums. In New Mexico, several museums boast impressive santos collections, including the Harwood Museum and the Millicent Rogers Museum in Taos and the Museum of Spanish Colonial Art in Santa Fe. In Colorado Springs, Colorado, the Taylor Museum displays a strong collection of historical New Mexican santos. Any of these collections will offer you an appreciation for the styles and subjects of this regional craft.
Purchasing an authentic New Mexican santo can prove tricky, as many shops mix locally made ones alongside lower priced santos imported from Central and South America. Though they may be authentic and of quality, these santos represent traditions distinct from the New Mexican one. Quality antique santos have become scarcer and more expensive in recent years. Collectors compete vigorously for quality pieces made during the colonial period prior to New Mexico's statehood in 1912. Rare or well-preserved antique bultos and retablos command the highest prices at auctions and galleries.
The best bet is purchasing a santo made by a living santero, usually a great value considering their heritage and uniqueness. The Spanish Market, held annually in July and December in Santa Fe, is an excellent way to encounter living santeros and their work. During the rest of the year, make an appointment to visit a home studio, or make a detour to the village of Cordova, between Taos and Santa Fe, which boasts a small yet prolific community of santeros. Be sure to ask questions. Does the saint or scene have local significance? What kind of wood and pigments were used? If you are buying a bulto, are the arms detachable? Buy directly from the artisan in their studio or at the markets, and you'll come face to face with one of the America's most vibrant living traditions, as colorful as it is authentic.
This article originally appeared in Laura Morelli's column, "The Genuine Article," for National Geographic Traveler.
Have you found a treasure in the American Southwest? Drop a comment below. I love to hear your stories!