The craft traditions of Florence are deeply embedded in the city's history, arguably more so than in any city in the world. From the twelfth century onward, the Florentine craft guilds, the Corporazioni di Arti e Mestieri, dominated the city's economic and social organization.
The Craft Guilds
The seven major guilds (arti maggiori), five middle guilds (arti mediane) and nine minor guilds (arti minori) organized the lives of all craftspeople, from painters to sculptors, furriers to cobblers, and makers of everything from hats to belts, keys, bracelets, goblets, rugs, lamps, spoons, shoes, and stockings. Each maker had a role to play in Florentine society, and each contributed to the city's culture of high technical skill, reputation for quality, and economic might.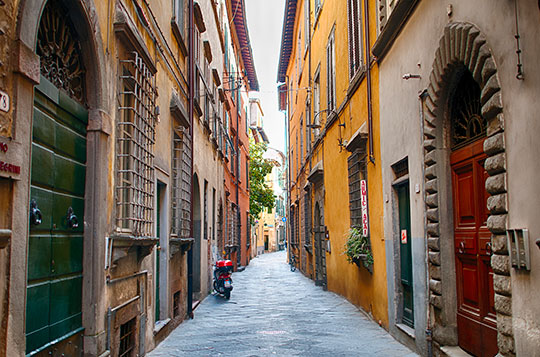 By the late Middle Ages, every neighborhood of Florence pulsed with the lifeblood of these trades. The ruling Medici family only served to bolster this already thriving culture of artisanal expertise by patronizing makers of fine objects in silver, gold, stone, textiles, and other materials. This intense flourishing of artisanal production helped pave the way for Florence to take its rightful place as the artistic capital of the Renaissance.
Artisan Neighborhoods of Florence
A fifteenth-century map known as the Carta della Catena, now conserved in the Friedrich Museum in Berlin, Germany, depicts the massive city walls and segmented quarters of Florence at the dawn of the Renaissance. Historically, artisans were scattered across the city, with small concentrations of tradespeople involved in the same or related trades. For example, at the end of the fifteenth century, tanneries were located along the Arno, while goldsmiths clustered in the Santo Spirito neighborhood before moving to the Ponte Vecchio and surrounding streets a century later. Many other artisans occupied the poorer sections of the Oltrarno district on the southern bank of the Arno River.
Today, many makers of traditional wares still cluster in the Oltrarno, especially around the Piazza Pitti and the via Borgo San Frediano. I love this section of town, since it preserves the character of an Old World artists' neighborhood, similar to the Left Bank of Paris. It's full of caffès, hole-in-the-wall restaurants, and combined studio / living spaces. Today, the spirit of excellence and technical skill continues to pervade Florence, giving the city its particular flavor that draws art lovers from around the world.
Have you discovered any treasures in your travels to Florence, Italy? Drop a comment below. I love to hear your stories!