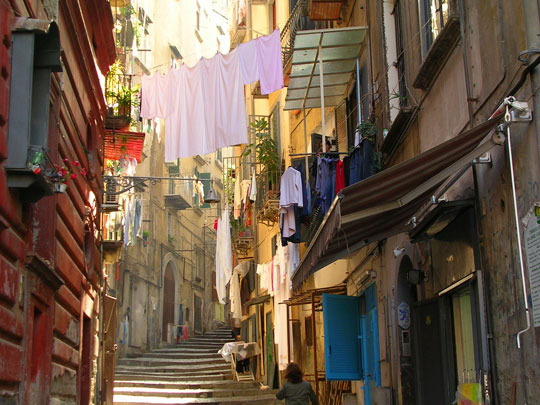 Che dramma!
Naples, Italy–chaotic, dirty, loud, steamy–is a city of pure spectacle. It is one of my favorite cities in the world. My Milanese friends laugh and tell me I'm crazy, but I'm in love with Napoli. Maybe it's my Southern upbringing, my love of the sea, or my appreciation for dark humor and beauty in unexpected places, but I feel at home in Naples. Whatever the reason, I relish the city's chaos, its rhythm, and its fascinating nooks and crannies.
Nearly anyone who's ever visited Napoli has a story, and some of them, unfortunately, contribute to its reputation as a city full of shady characters. I can tell my own tales, including having to move a heavy piece of furniture in front of a hotel room door, but I'll save those for another time. Trust me: You will not be bored in Naples.
In its artistic traditions, Napoli embodies all the sophistication, originality, and unbridled exuberance of Italian culture: cameos, Capodimonte porcelain, coral jewelry, copper and wrought iron, fantastic nativity and religious figures crafted of papier-mâché (the city's famous presepe and pastore).
Italians have a wonderful expression–"Che dramma napoletano!" (What a Neopolitan drama!)–and I can think of no other word that's more perfect than "drama" to sum up this wonderful city.
For my insider's guide to locating authentic finds in Naples and along the Amalfi Coast, read on:
Have you made any surprising discoveries in Naples, or did you come home with a treasure? Drop a comment in the box below. I love to hear your stories!